STORY 1: Ms. Lê Thị Oanh
(Borrower opened a convenience store)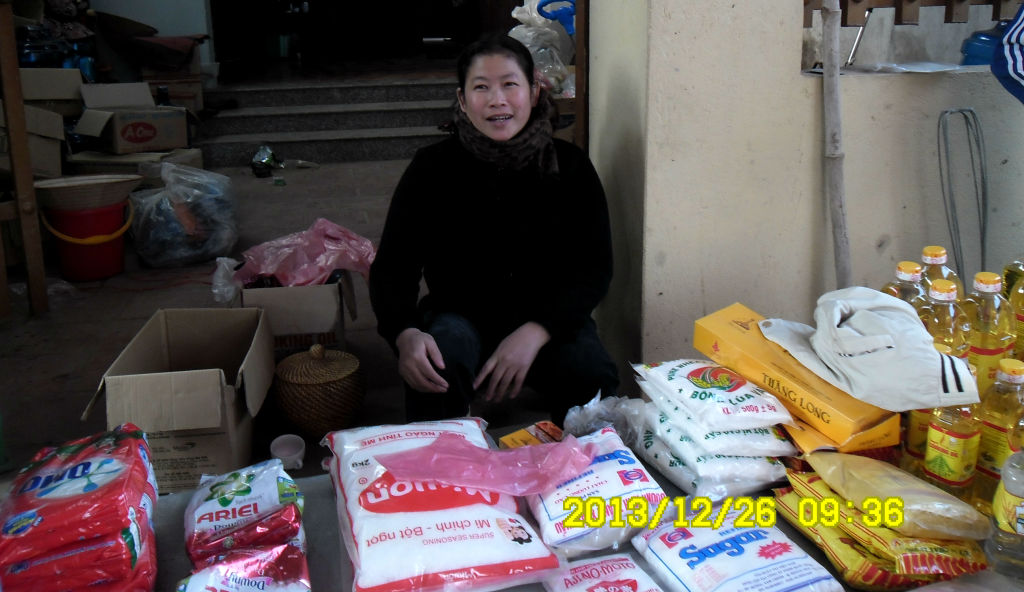 Since 2010, the microfinance project by VNHELP has been implemented in Hop Hoa Commune, Vinh Phuc Province. Ms Lê Thị Oanh is one of the typical cases of the project as she has successfully used the loan to change her life.
Before getting the microloan from VNHELP's project, the income of Oanh's family was solely from farm work. They all worked very hard every day but their earnings from working on the farm were very low. Her family was listed in the "poor household" category. With the initial loan of 3000,000 vnd (150 USD), Oanh and her husband opened a home restaurant to sell banh canh (Vietnamese instant noodle) to local residents and visitors. They both worked very hard at the new restaurant and the profits from the new restaurant have helped her family significantly.
After borrowing a microloan from the project, Oanh was trusted to continue renewing the loan. She proved that the money from the loan was used effectively as she always paid interest rate on time. In 2013, she borrowed 10,000,000 VND ($500) from VNHELP's micro finance project. Given the new loan, Oanh decided to expand her business and opened a new convenience shop. This new convenience shop provides groceries to local residents and it has generated a higher income for her family. People in the village like to shop at the local shop as Oanh offers reasonable prices and she is always very welcoming. The goods at Oanh's shop are well arranged and the shop location is very convenient for local residents to stop by. Her net profit each day is 80,000 VND ($4)
This year, Oanh is 38 years old. She is very happy and proud of her family. One of her children is a student at the Police Institute and the other one just went abroad to follow the Oversea Labor Program. Oanh and her husband have been working hard to make full use of the loan from VNHELP's microfinance project. The loan has helped her family earn a stable income. Her business has run very well and she has proven to be a successful loan borrower in Hop Hoa commune. Oanh was very moved when she said: "We finally have a stable income after a long time. We are thankful for the microfinance project by VNHELP".
STORY 2: Ms. Lê Thị Thành
(Borrower raised ducks and pigs to build a 2-story house)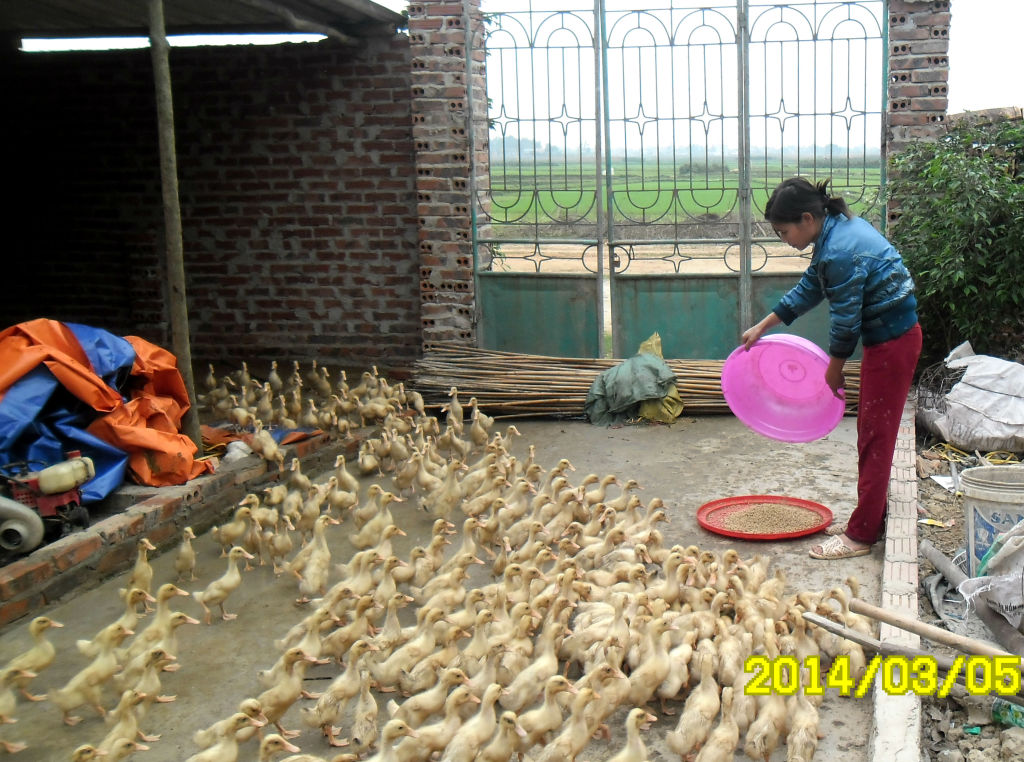 Before participating to the microfinance project by VNHEP, Ms. Lê Thị Thành worked as a farmer and her family's income is mainly from her farm work. Her parents and her children financially rely on her. She is the main breadwinner of the family. In 2010, Thanh applied to participate to the microfinance project by VNHELP. She was worried at first as she was not familiar with the weekly interest payment method. She was also not sure whether she could pay interest rate on time and how to spend the loan effectively. With the consultation of the microfinance project officer, Thanh was confident to borrow the loan and opened a small business. She spent 3,000,000 VND ($150) from the microfinance project to buy 100 ducks and 02 pigs. After 03 year, the livestock production went very well and she decided to scale up the business. Thanks to this, her net profit each year now is 20,000,000 VND ($1000).
After 03 rounds of borrowing money from VNHELP's microfinance program, Thanh realized that the microloan model is very relevant for a small household. It helped her significantly when she needed a small investment to start up her own business. Thanh continued borrowing from the "multi purpose" loan to renovate the farm and to expand the livestock production. Currently, she is raising 700 ducks and 20 pigs. Money earned from selling duck eggs is rotated to buy food and medicines for cows. The extra net profit from livestock production is for family saving.
Thanh is not only excellent with her start up business; she is also very active in participating to the community activities. Thanh participated to the training courses of livestock production and gender equality. Since 2013, Thanh and her family have earned a stable source of income.